Dolohoff III
From Gineipaedia, the Legend of Galactic Heroes wiki

The cruiser Dolohoff III (799 UC

(

1 NIC / 490 IC / 3599 CE

)

)
Affiliation:
Free Planets Alliance
Type:
Cruiser
Length:
372 metres(FFC10)
Width:
94.5 metres(FFC10)
Height:
74.4 metres(FFC10)
Armament:
6 12 cm neutron beam cannons
2 4 cm railguns
8 multiple missile launchers
2 external hardpoints
3 Spartanian fighters
1 shuttle
Crew:
393(FFC10)
The Dolohoff III (Japanese: ドーロホフIII) was a Alliance cruiser which carried William Odets to (ultimately unsuccessful) negotiations with the Galactic Empire just prior to their second invasion of Alliance territory.
Appendices
Appearances
Name variations
Dolohoff III (LD

/

DVD subtitles)
ドーロホフIII (LD

/

DVD subtitles — Japanese)
Dorohoff III (Japanese fan sources)
Background information
The name Dolohoff appears to be a reference to some Russian surname, possibly Dorohoff, Dolohov, or Dorokhov.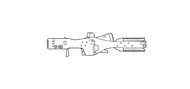 Apocrypha
Fleet File Collection
The Dolohoff III is included as a model in Fleet File Collection Vol.10.