Garmisch Fortress
From Gineipaedia, the Legend of Galactic Heroes wiki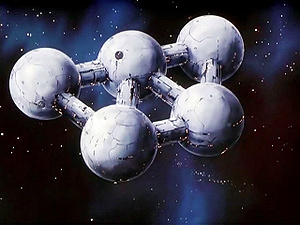 Garmisch Fortress (Japanese: ガルミッシュ要塞) was an Imperial fortress. It was used by Lippstadt League forces as the headquarters of Marquis Littenheim and his fleet of 50,000 ships. It was captured by forces under High Admiral Kircheis during the Imperial Civil War.
Design
Garmisch Fortress was a collection of 5 spheres in a row of 3 and a row of 2, with cylndrical connections linking each sphere to adjacent spheres. There was no indication of a main gun on the same scale as the Vulture's Claw and the Thor Hammer of the Geiersburg and Iserlohn fortresses respectively. The main fortress command centre was in one of the spheres in the row of 2. The command centre's internal layout was very similar to that of Iserlohn Fortress. (LOGH: 'Courage and Loyalty')
Appendices
Appearances
Background information
The name Garmisch appears to be derived from Garmisch-Partenkirchen, a resort town in southern Bavaria, Germany.