Gendarmerie Headquarters
From Gineipaedia, the Legend of Galactic Heroes wiki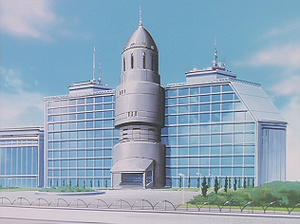 The Gendarmerie Headquarters (Japanese: 憲兵隊本部) building was the provisional headquarters of the New Galactic Empire's Military Police on Fezzan.
Appendices
Appearances
Name variations
Gendarmerie Headquarters (Translation of German/Japanese, derived from LD

/

DVD subtitles)
Das Gendarmerie Hauptquartier (LD

/

DVD subtitles — German)
憲兵隊本部 (LD

/

DVD subtitles — Japanese)
Background information
The word gendarmerie refers to a military force which is tasked (at least in part) with policing the civilian population. In this sense it is equivalent to the literal meaning of the English military police, but in many English contexts the latter term carries the connotation of a force which has jurisdiction only within the military.