Neptune
From Gineipaedia, the Legend of Galactic Heroes wiki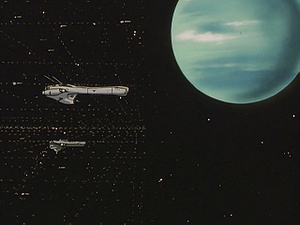 Neptune (Japanese: 海王星) is the eighth planet in orbit of Sol, in the Sol Starzone.
Appendices
Appearances
Background information
Neptune is never referred to (by name or subtitles) in the OVA. Its appearance in 'Holy Land' is labelled in the subtitles simply as 'Near "Pluto"'; although the colouring of the planet that appears in this scene is closer to that of Uranus, it can be deduced that this is in fact Neptune by the fact that Neptune's orbit somewhat coincides with Pluto's, and from the pattern of clouds and storms which can be seen in its atmosphere.
External links