Okanagan Mountains
From Gineipaedia, the Legend of Galactic Heroes wiki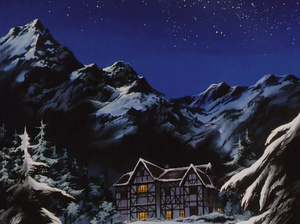 The Okanagan Mountains (Japanese: オカナガン山地) are a range of mountains on the planet Fezzan. It was the location of Adrian Rubinsky's hideout following his removal from power in 798 UC (489 IC / 3598 CE).
Appendices
Appearances
Name variations
Okanagan Mountains (Translation of German, derived from LD

/

DVD subtitles)
"Okanagan" Berge (LD

/

DVD subtitles — German)
オカナガン山地 (LD

/

DVD subtitles — Japanese)
Background information
The name Okanagan refers to the Okanagan (or Syilx) people, a native-American tribe whose traditional territory spanned the border between what are now the US state of Washington and the Canadian province of British Columbia. The Okanagan people have lent their name to several geographical features on Earth, including the Okanagan River, the Okanagan Valley, and the Okanagan Range, a sub-range of the Cascade Mountains.