Assiniboia Ravine
From Gineipaedia, the Legend of Galactic Heroes wiki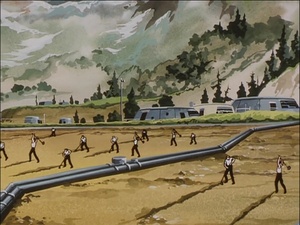 The Assiniboia Ravine (Japanese: アッシニボイヤ渓谷) is a largely barren ravine on the planet Fezzan. It was the location of a farm established by Leopold Schumacher and his former subordinates after they fled to Fezzan following the Lippstadt League's defeat in the Imperial Civil War in 797 UC (488 IC / 3597 CE).
Appendices
Appearances
Name variations
Assiniboia ravine (DVD subtitles)
Assiniboiyer ravine (LD subtitles)
アッシニボイヤ渓谷 (LD

/

DVD subtitles — Japanese)
Background information
Assiniboia is the name of two historical districts in the Northwest Territories of Canada, which in turn is derived from the Assiniboine, a Sioux First Nations people originally from the northern Great Plains of North America.