Braunschweig's ship
From Gineipaedia, the Legend of Galactic Heroes wiki
Otho von Braunschweig's ship was the personal yacht of Duke Braunschweig prior to his death in 797 UC (488 IC / 3597 CE). In that same year, at the beginning of the Imperial Civil War, he used the vessel to escape Odin, surrounding himself with civilian ships in order to avoid being fired upon by Reinhard von Lohengramm's subordinates.
The ship was subsequently berthed at Geiersburg Fortress. (LOGH: 'The Lippstadt Conspiracy')
Gallery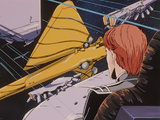 Starboard (797 UC (488 IC / 3597 CE))
Appendices
Appearances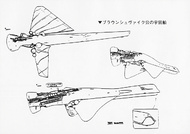 Apocrypha
LaserDisc art binder
Braunschweig's ship is identified in a production sketch in the art binder included with the Legend of Galactic Heroes Second Series LaserDisc box.
See also
Berlin, Braunschweig's military flagship