Holly House
From Gineipaedia, the Legend of Galactic Heroes wiki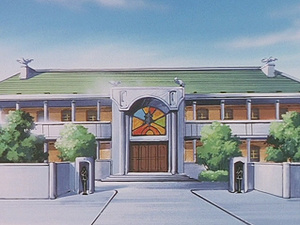 Holly House (Japanese: 柊館) was the provisional residence of the Imperial family on Fezzan, located near the New Imperial Capital.
Appendices
Appearances
Name variations
Holly House (Translation of Japanese, derived from LD

/

DVD subtitles)
Die Steineichepalme schloß (DVD subtitles — German)
die Steineichepalme schloß (LD subtitles — German)
柊館 (LD

/

DVD subtitles — Japanese)
Background information
The name given in the German subtitles is not an accurate translation — Steineichepalme appears to be a melding of the German words for holly oak and holly (two different plants). This is almost certainly a mistake on the part of the production team. The character used in the Japanese name, 柊, can refer to either the holly osmanthus (an unrelated plant native to eastern Asia) or the European holly (often qualified with 西洋, Western).