Imperial ionocraft
From Gineipaedia, the Legend of Galactic Heroes wiki
Affiliation:
Galactic Empire
Type:
Ionocraft
Purpose:
Ground combat
Length:
3.62 metres
Width:
1.82 metres
Height:
0.98 metres
Armament:
2 energy weapon
Crew:
2
This ionocraft was deployed several times in the Galactic Empire's military campaigns.
Design
The Imperial ionocraft was held aloft and propelled by a series of thrusters mounted about the chassis. Its armament consisted of two energy weapons mounted on the leading edges of the craft's wings, which were powerful enough to penetrate the frontal armor of an Alliance tank. With a two man crew as standard, it was common practice for the soldier on the rear seat to engage in combat with his own personal weapon - whether it be a battle axe, rifle, or rocket launcher.
In addition to being deployed on planetary options, the ionocraft could also easily operate on the surface of a fortress such as Iserlohn, which had little to no atmosphere on its surface. (LOGH: 'Fortress vs Fortress', HBSHBL: 'A Dangerous Man')
Gallery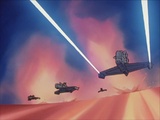 Beam weapons (794 UC (485 IC / 3594 CE))
Appendices
Appearances
Apocrypha
DVD Features
A design sketch appears in the extra features of the DVD box set. It shows extendable landing gear, one from each wing.