Lesing
From Gineipaedia, the Legend of Galactic Heroes wiki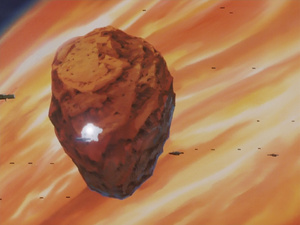 Lesing (Japanese: レージング) is a gas giant located in the Orion Arm of the Galaxy, in traditional Imperial territory. At least one satellite can be found in orbit.
During the Free Planets Alliance's invasion of the Empire in 796 UC (487 IC / 3596 CE), Lesing was notably host to a battle between the Alliance 3rd Fleet (commanded by Vice Admiral Lefebvre) and the Imperial Wahlen Fleet (commanded by Vice Admiral August Samuel Wahlen). The 3rd Fleet was ultimately routed; its flagship, the Cu Chulainn, was destroyed when a friendly vessel collided with it, sending them both crashing into a nearby satellite of the planet. (LOGH: 'The Battle of Amritsar Starzone')
Appendices
Appearances
Name variations
Lesing (LD

/

DVD subtitles)
レージング (LD

/

DVD subtitles — Japanese)
Background information
The name Lesing is a mistranslation of Læðingr (aka Leyding), the first of three fetters (or shackles) used to bind the wolf Fenrir in Norse mythology.