Lycus
From Gineipaedia, the Legend of Galactic Heroes wiki
This article is about the supply base. For other uses, see Lycus (disambiguation).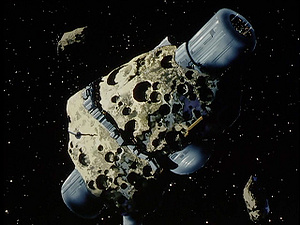 Lycus (Japanese: リュカス) was an Alliance supply base, constructed on an asteroid, in the Lycus Starzone. It was notable for the events which occurred there during the Battle of Vermilion. (LOGH: 'The Battle of Vermilion (Part Two)')
Appendices
Appearances
Name variations
Lycus (LD

/

DVD subtitles)
リュカス (Derived from LD

/

DVD subtitles)
Novels
The supply base was mentioned to have contained 80,000,000 tons of grain, 24,000,000 tons of meat, 65,000,000 tons of livestock feed, 2,600,000 carats of industrial diamonds, 38,400,000 tons of liquid hydrogen, and large quantities of other rare metals, fuels, and petroleum. (Legend of Galactic Heroes Volume 5: Wind and Clouds)
Background information
Lycus, from the Greek word meaning 'wolf', is the name of several Greek rivers and mythological figures. It is unclear if this is the intended reference, however, since the Japanese spelling 'リュカス' (lyukasu) does not correspond with this name; rather, it is a possible transliteration of the name Lucas.