Srinagar
From Gineipaedia, the Legend of Galactic Heroes wiki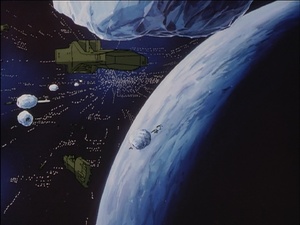 Srinagar (Japanese: シリーユナガル) is the sixth planet of the Ba'alat Starzone located in the former Free Planets Alliance. It is a terrestrial planet blanketed by snow and ice, and was notable to be the source of the giant ice chunks harvested by the Yang Fleet under the orders of Yang Wen-li that were used to destroy the Artemis Necklace protecting the planet Heinessen in October 797 UC (488 IC / 3597 CE), which was then occupied by the National Salvation Military Council during the Alliance Civil War.
Appendices
Appearances
Name variations
Srinagar (DVD subtitles)
Shilyunagal (LD subtitles)
シリーユナガル (LD

/

DVD subtitles — Japanese)
Background information
Srinagar is the summer capital of the Indian state of Jammu and Kashmir.