Unnamed noble vessels
From Gineipaedia, the Legend of Galactic Heroes wiki
The following is a list of unnamed noble vessels.
Large noble ship 1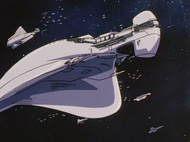 A large white ship was present during the evacuation of the Lippstadt nobles from Odin in 797 UC (488 IC / 3597 CE). (LOGH: 'The Lippstadt Conspiracy')

Appendices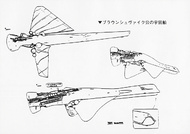 Apocrypha
LaserDisc art binder
A large noble ship (along with Duke Braunschweig's ship) is identified in a production sketch in the art binder included with the Legend of Galactic Heroes Second Series LaserDisc box.