Alpha Centauri Expedition
From Gineipaedia, the Legend of Galactic Heroes wiki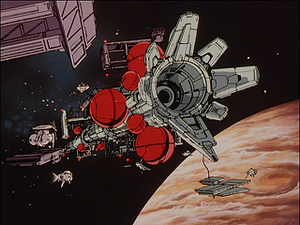 The Alpha Centauri Expedition was one of mankind's first attempts to explore the galaxy beyond the Sol Starzone.
History
In 2253 CE, the Ministry of Space of the United Earth Government launched a massive starship from its base on Io. Its destination: the trinary Centauri Starzone. The vessel was expected to return to the the Sol Starzone in less than 20 years.
However, contact with the vessel was lost in the intervening years and it was never heard from again. By 2273 CE the vessel was declared lost and the project deemed a failure. (LOGH: 'To Earth')
Apocrypha
Background information
If we assume that the ACE vessel turned sail for home immediately upon entering range of Alpha Centauri, that would give the ship an average cruising speed of roughly 0.22c. It is likely the ship would have remained in the Centauri system for a while, perhaps 2 years, to study and map the region. In that case, the ship would have had an average cruising speed of roughly 0.24c.