Hotel Shangri-la (Fezzan)
From Gineipaedia, the Legend of Galactic Heroes wiki
This article is about the hotel on Fezzan. For the hotel on Heinessen, see Hotel Shangri-la (Heinessen).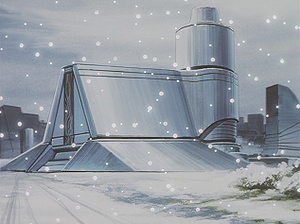 The Hotel Shangri-la (Japanese: ホテル "シャングリラ") was a hotel on Fezzan. It was known for hosting the wedding ceremony of Reinhard von Lohengramm and Hildegard von Mariendorf on 29 January 801 UC (3 NIC / 492 IC / 3601 CE).
Appendices
Appearances
Name variations
Hotel "Shangri-la" (LD

/

DVD subtitles)
ホテル "シャングリラ" (LD

/

DVD subtitles — Japanese)
Background information
The name Shangri-la is a reference to the legendary valley of Shangri-La, a fictional location described in the novel Lost Horizon by James Hilton.