Hotel Shangri-la (Heinessen)
From Gineipaedia, the Legend of Galactic Heroes wiki
This article is about the hotel on Heinessen. For the hotel on Fezzan, see Hotel Shangri-la (Fezzan).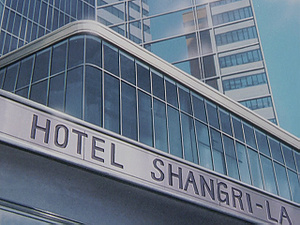 The Hotel Shangri-la (Japanese: ホテル "シャングリラ") was a hotel on Heinessen which served as the Imperial high commissioner's office following the conclusion Treaty of Ba'alat and the end of the first Alliance–Imperial War.
High Commissioner Lennenkampf's office was located on the 14th floor. (LOGH: 'Blood Running Down the Stairs: Cascade')
Appendices
Appearances
Name variations
Hotel "Shangri-la" (LD

/

DVD subtitles)
ホテル "シャングリラ" (LD

/

DVD subtitles — Japanese)
Background information
The name Shangri-la is a reference to the legendary valley of Shangri-La, a fictional location described in the novel Lost Horizon by James Hilton.