Imperial transport (788 UC era)
From Gineipaedia, the Legend of Galactic Heroes wiki

Imperial transport (797 UC

(

488 IC / 3597 CE

)

)
Affiliation:
Galactic Empire
Type:
Transport
Length:
968 metres(FFC1)
Width:
521 metres(FFC1)
Height:
537 metres(FFC1)
Crew:
36 (FFC1)
This Imperial transport design served as the standard transport design of Imperial fleets from the late stages of the Alliance–Imperial War.
Design
The standard Imperial transport was essentially rectangular in shape with an almost uniformly flat prow (save for a protruding structure), and 4 engines in the rear.
Role and Capabilities
It served as the main Imperial military transport design. The Kircheis Fleet escorted a fleet of transport ships laden with Alliance prisoners of war to Iserlohn Fortress in 797 UC (488 IC / 3597 CE). Supply ships were also kept behind the battle line by Imperial flagship of High Admiral Marquis Wilhelm von Littenheim at the Battle of Kyffhäuser later that year, to supply his forces in case of a prolonged battle. (LOGH: 'Before the Storm', 'Courage and Loyalty')
Appendices
Appearances
Apocrypha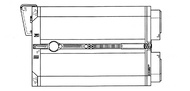 Fleet File Collection
The Imperial transport is included as a model (with both
Goldenbaum
and
Goldenlöwe
markings) and in standard grey and black
Black Lancers
livery in
Fleet File Collection Vol.1
.