Lusiana
From Gineipaedia, the Legend of Galactic Heroes wiki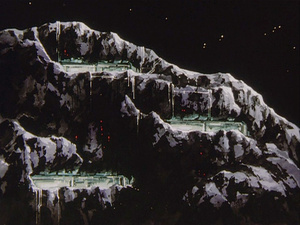 Lusiana (Japanese: ルジアーナ) was a small, irregularly shaped planet located in the Sagittarius Arm of the Galaxy, within former Alliance territory. The planet was home to an arms-manufacturing facility which produced cruisers and destroyers during the later years of the Alliance–Imperial War. For defence, it had anti-ship cannon turrets mounted in fixed emplacements. This facility was a strategic target for the New Galactic Empire during the Second Alliance–Imperial War and was destroyed during the war.
Appendices
Appearances
Name variations
Lusiana (DVD subtitles)
Losiana (LD subtitles)
ルジアーナ (LD

/

DVD subtitles)
Background information
The name Lusiana is a reference to the small town of Lusiana in northern Italy.
Apocrypha
DVD features
See also