Manannan Mac Lir
From Gineipaedia, the Legend of Galactic Heroes wiki
The Manannan Mac Lir (Japanese:マナナン マクリル) was the Alliance squadron flagship in the 2nd Fleet under Commodore Edwin Fisher.
Service history
The Manannan Mac Lir fought in the battle between the 2nd Fleet and the Lohengramm Fleet at the Battle of Astarte in 796 UC (487 IC / 3596 CE). (DNT: 'The Battle of Astarte')
Design
The Manannan Mac Lir is a heavily modified version of the Alliance's standard battleship design. It features a darker color scheme and extensive antenna arrays.
Gallery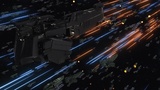 Port (796 UC (487 IC / 3596 CE))
Appendices
Appearances
Background information
Manannan Mac Lir (aka Manannán mac Lir) is a sea deity in Manx and Irish mythology.