Fleet File Collection Vol.1R
From Gineipaedia, the Legend of Galactic Heroes wiki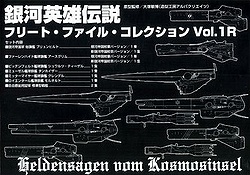 Produced by Wright Staff, Fleet File collections contain sets of fine-detailed starship models in 1/12000 scale. Each ship figure comes with a display stand with the ship's name painted on the base. Made of ABS plastic, some (minor) assembly is required.
The Fleet File Collection, Volume 1R, contains a total of 9 ships:
Product details
MSRP: ¥7000
Dimensions: 27.5 x 19.5 x 9.9 cm / 520g
Release date: July 2010
Reception
....