Morholt
From Gineipaedia, the Legend of Galactic Heroes wiki
The Morholt (Japanese: モルオルト) was the battleship of Oskar von Reuenthal whilst he held the rank of both Commodore and Rear Admiral.
Service history
The Morholt's first known battle was the Sixth Battle of Iserlohn in 794 UC (485 IC / 3594 CE). It would go on to fight at the Battle of Legnica, and the 4th Battle of Tiamat as part of the Lohengramm Fleet in 795 UC (486 IC / 3595 CE). (My Conquest Is the Sea of Stars, HBSHBL: 'A Hundred Billion Stars, One Ambition')
Following Reuenthal's promotion to Vice Admiral and induction into Reinhard von Lohengramm's new Admiralty, he transferred his flag to his unique flagship, the Tristan (with an identical crest). Subsequent service of the Morholt is unknown. (LOGH: 'The Battle of Amritsar Starzone')
Gallery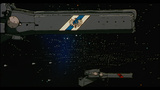 Starboard (795 UC (486 IC / 3595 CE))
Appendices
Appearances
Name variations
Background information
Morholt is a character in the legend of Tristan and Isolde - a clear reference to Reuenthal's unique flagship.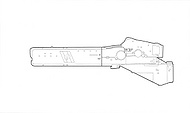 Apocrypha
Fleet File Collection
The Morholt is included as a model in Fleet File Collection Vol.1R.