Warp
From Gineipaedia, the Legend of Galactic Heroes wiki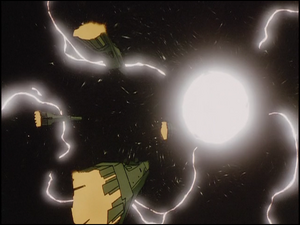 Warp (Japanese: ワープ) is the primary (and only known) form of faster-than-light travel. A warp drive utilises an enormous amount of energy to bend space and time, allowing a vessel to 'jump' across a finite distance, crossing dozens or even hundreds of light-years in mere moments.
When a vessel transits back to realspace, there is a space-time distortion at its exit point, which may affect other objects in the vicinity. An imminent warp exit can be detected due to the distortion effect starting before the actual transit and the magnitude of this distortion appears to be proportional to the warping object's mass. A particularly large distortion effect was created during the process of Geiersburg Fortress exiting warp.
History
Warp travel was developed at the United Earth Government's Io colony by Doctor Antonel Yanosher and a team of scientists, and was funded by the UEG Ministry of Space. When it was first discovered in 2360 CE, warp technology was unreliable and dangerous. Warp was only capable of traversing short distances, and had dangerous effects on the human body — particularly on female fecundity. Warp technology was finally perfected in 2391 CE, after more than three decades of research, and its wide-spread use ushered in a new age of deep-space exploration and colonisation. (LOGH: 'To Earth')
Apparent characteristics and limitations
When a starship executes a warp jump, it appears to glow brightly before vanishing from sight.
As the mass of an object increases, the amount of energy required to warp it increases exponentially.
Vessels can only warp across a finite distance. There is likely both a minimum and a maximum limit, meaning it is possible to warp from star-to-star, provided the stars are within a certain range, but it is not possible to warp from one point inside a system to another point in that same system. For inter-solar flight, conventional ships make use of standard drive engines.
Vessels can only warp while a certain distance away from intense gravitational wells; this means a fleet cannot warp-out directly on top of a planet or other large body, and presumably requires individual ships in a fleet be spaced a certain distance away from each other while executing warp.