Aldebaran Starzone
From Gineipaedia, the Legend of Galactic Heroes wiki
'Aldebaran' redirects here. For the star itself, see Aldebaran (star).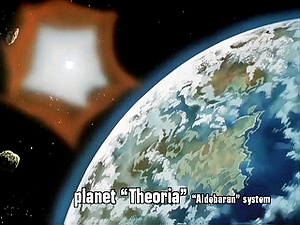 The Aldebaran Starzone (Japanese: アルデバラン星域) is a starzone located within the Orion Arm of the Galaxy.
History
The Aldebaran Starzone was one of the first starzones colonised by Earth. One of its planets, Theoria, served as the capital for the Galactic Federation from its foundation in 2801 CE (1 UC) until its transformation into the Galactic Empire in 310 UC (1 IC / 3110 CE). (LOGH: 'Julian's Journey, Mankind's Journey')
Appendices
Appearances
Name variations
Aldebaran Starzone (Derived from LD

/

DVD documentary subtitles)
アルデバラン星域 (Derived from LD

/

DVD dialogue — Japanese)
Background information
Aldebaran is one of a handful of stars mentioned in LOGH which also exist (by the same name) in the real world. It is an orange giant — nearly 45 times the size of our Sun, and 150 times brighter — located about 65 light-years away from our solar system. It is not currently known whether it supports a planetary system.