Gandharva (ship)
From Gineipaedia, the Legend of Galactic Heroes wiki

The flagship Gandharva (796 UC

(

487 IC / 3596 CE

)

)
Affiliation:
Galactic Empire
Type:
Battleship
Purpose:
Flagship (Mecklinger Fleet)
Status:
Active
The Gandharva (Japanese: ガンダルヴァ) was the flagship of Ernst Mecklinger.
Service history
Flagship of the Mecklinger Fleet, the Gandharva's first campaign was the counterattack against the Free Planets Alliance's invasion of Imperial space in 796 UC (487 IC / 3596 CE) - engaging the 8th Fleet. (DNT: 'The Verge of Death (Part Two)')
Design
Like most Imperial flagships, the Gandharva's design resembles a standard Imperial battleship in layout. The Gandharva's distinguishing features include its lightly colored hull and prominent weapons implacement on the prow, mounted with additional port and starboard-facing weaponry.
Gallery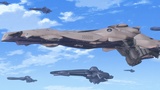 Port (796 UC (487 IC / 3596 CE))
Appendices
Appearances
Background information
The name Gandharva is a reference to gandharvas — non-human beings associated with nature — of Hindu/Buddhist mythology.