Herðubreið
From Gineipaedia, the Legend of Galactic Heroes wiki

The flagship Herðubreið (796 UC

(

487 IC / 3596 CE

)

)
Affiliation:
Galactic Empire
Type:
Battleship
Purpose:
Flagship (Lutz Fleet)
Status:
Active
The Herðubreið (Japanese: ヘルズブレイズ) was the flagship of Cornelius Lutz.
Service history
Flagship of the Lutz Fleet, the Herðubreið's first campaign was the counterattack against the Free Planets Alliance's invasion of Imperial space in 796 UC (487 IC / 3596 CE) - engaging the 12th Fleet. (DNT: 'The Verge of Death (Part Two)')
Design
Like most Imperial flagships, the Herðubreið's design resembles a standard Imperial battleship in layout. The Herðubreið's most prominent design feature is its large forward weapons emplacement from which it can fire high-output energy blasts.
Gallery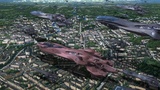 Dorsal (796 UC (487 IC / 3596 CE))
Appendices
Appearances
Background information
The name Herðubreið is a reference to the Icelandic tuya of the same name.