Jagannath
From Gineipaedia, the Legend of Galactic Heroes wiki
The Jagannath (Japanese: ジャガンナータ) was the Alliance flagship of Vice Admiral Appleton.
Service history
The flagship of the 8th Fleet, the Jagannath participated in the Alliance invasion of Imperial territory. With Alliance supply lines cut off, the 8th Fleet was engaged by the Mecklinger Fleet. The Jagannath was struck by enemy fire during the battle. (DNT: 'The Verge of Death (Part One)', 'The Verge of Death (Part Two)')
Design
The Jagannath, like most Alliance flagships, is a modified version of the Alliance's standard battleship design. As with the majority of Alliance flagships, a key distinguishing feature are the four antennae protruding from the dorsal, ventral, port and starboard side of the rear hull. Four additional armament emplacements are mounted to the port and starboard side of the upper-half of the vessel's prow. The Jagannath is visually identical to the 10th Fleet flagship, the Gesir Bogdo.
Gallery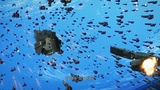 In battle (796 UC (487 IC / 3596 CE))
Appendices
Appearances
Background information
Jagannath is a reference to the deity of the same name worshipped in regional traditions of Hinduism and Buddhism.