Ulysses (DNT)
From Gineipaedia, the Legend of Galactic Heroes wiki

The battleship Ulysses (796 UC

(

487 IC / 3596 CE

)

)
Affiliation:
Free Planets Alliance
Type:
Battleship
Pennant number:
13BB11-2813
Status:
Active
The Ulysses (Japanese: ユリシーズ) was an Alliance battleship.
Service history
The Ulysses was part of the newly formed Iserlohn Garrison Fleet under Admiral Yang Wen-li in 796 UC (487 IC / 3596 CE). It escorted an Imperial vessel to Iserlohn Fortress carrying a special envoy to propose a prisoner exchange. (DNT: 'Before the Storm')
Design
The Ulysses, whilst a battleship, bears little resemblance to the standard battleships of the Alliance fleet. It features a blue color scheme and a hull layout which distributes its forward cannon armament between both the dorsal and ventral side of the bow. A semi-circular ring structure also houses six of its twelve engines.
9 launch bays for Spartanian fighters are located on both the port and starboard side of the rear hull, allowing for a total of 36 Spartanian fighters. (DNT: 'Before the Storm')
Gallery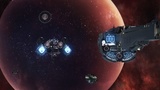 Rear (796 UC (487 IC / 3596 CE))
Appendices
Appearances
Background information
Ulysses is the Latin name of Odysseus, the protagonist of the ancient Greek epic poem, the Odyssey.