Ajax
From Gineipaedia, the Legend of Galactic Heroes wiki
The Ajax (Japanese: アイアース) was the Alliance flagship of Fleet Admiral Lassalle Lobos.
Service history
The Ajax served in the latter days of the Alliance war against the Galactic Empire, under the command of Fleet Admiral Lobos. It was present notably at the Fourth Battle of Tiamat. (My Conquest Is the Sea of Stars)
Dwight Greenhill and Yang Wen-li also served for a time on the Ajax. (My Conquest Is the Sea of Stars; HBSHBL: 'Those Who Defected')
Gallery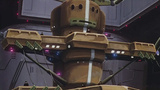 Bridge (795 UC (486 IC / 3595 CE))
Appendices
Appearances
Licensed Sources
The Ajax was the namesake and class leader of the Ajax class of flagships. (Fleet File Collection Vol.10)
Background information
The name Ajax is a reference to the Greek mythological figure of the same name. An alternative spelling is Aias. The Japanese spelling follows the Greek pronunciation of eye-ahs, rather than ay-jacks.