Langenberg
From Gineipaedia, the Legend of Galactic Heroes wiki
The Langenberg (Japanese:ランゲンベルク) was the Imperial flagship of Rear Admiral Patricken.
Service history
The Langenberg participated in the Eighth Battle of Iserlohn in 798 UC (489 IC / 3598 CE) as part of Admiral Kempff's fleet. As Patricken's flagship, it headed the effort (along with Rear Admiral Eihendorf's fleet) to rescue the Müller Fleet from an ambush by the Yang Fleet.
Later in the battle, the Kempff Fleet was encircled and devasted by enemy fire, and the Langenberg was destroyed. (LOGH: 'Fortress vs Fortress', 'The Return')
Design
The Langenberg was a standard Imperial battleship and was distinguished by a red Y shaped crest. (LOGH: 'The Return')
Appendices
Appearances
Name variations
Background information
The name Langenberg is a reference to the Langenberg, a mountain peak in the Rothaargebirge range of western Germany.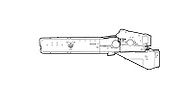 Apocrypha
Fleet File Collection
The Langenberg is included as a model in Fleet File Collection Vol.8.