Watzmann
From Gineipaedia, the Legend of Galactic Heroes wiki
The Watzmann (Japanese: バッツマン) was the Imperial flagship of Vice Admiral Fogel.
Service history
The Watzmann was assigned to Reinhard von Lohengramm's fleet at the Battle of Astarte in early 796 UC (487 IC / 3596 CE). (LOGH: 'In the Eternal Night')
During the Imperial Civil War in 797 UC (488 IC / 3597 CE), the Watzmann fought (presumably for the Lippstadt League) at the Battle of Rentenberg Fortress. It is unknown whether it survived the battle. (LOGH: 'Bloodshed in Space')
Appendices
Appearances
Name variations
Background information
Watzmann is the third highest mountain peak in Germany.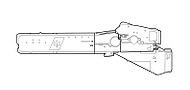 Apocrypha
Fleet File Collection
The Watzmann is included as a model in Fleet File Collection Vol.7.