Nürnberg
From Gineipaedia, the Legend of Galactic Heroes wiki
The Nürnberg (Japanese: ニュルンベルク) was the Imperial flagship of Admiral Karl Edward Bayerlein.
Service history
Karl Edward Bayerlein transferred his flag from the Heorot to the Nürnberg sometime after his promotion to Admiral. The Nürnberg was first observed at the Battle of the Corridor in 800 UC (2 NIC / 491 IC / 3600 CE), with the Bayerlein Fleet under Fleet Admial Mittermeyer's command. (LOGH: 'The Battle of the Corridor: Kaleidoscope')
The Nürnberg next fought at the Second Battle of Rantemario during Oskar von Reuenthal's rebellion, where Bayerlein's fleet was lured into a trap by Fleet Admiral Reuenthal's own detachment. The Nürnberg and its fleet were ultimately saved by timely intervention by Fleet Admiral Mittermeyer. It also fought at the Battle of Shiva. (LOGH: 'Live by the Sword...', 'The Beautiful Maiden Wants Blood')
Gallery
| | |
| --- | --- |
| Port (800 UC (2 NIC / 491 IC / 3600 CE)) | Stern (801 UC (3 NIC / 492 IC / 3601 CE)) |
Appendices
Appearances
Name variations
Nürnberg (LD

/

DVD subtitles)
ニュルンベルク (LD

/

DVD subtitles — Japanese)
Background information
Nürnberg is a city in the German state of Bavaria.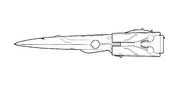 Apocrypha
Fleet File Collection
The Nürnberg is included as a model in Fleet File Collection Vol.6.