Heidenheim
From Gineipaedia, the Legend of Galactic Heroes wiki

The flagship Heidenheim (796 UC

(

487 IC / 3596 CE

)

)
Affiliation:
Galactic Empire
Flag officer:
Rear Admiral Erlache
Type:
Battleship
Purpose:
Flagship (Erlache Fleet)
Length:
677 metres(FFC3)
Width:
179 metres(FFC3)
Height:
228 metres(FFC3)
Armament:
6 forward neutron beam cannons
22 port cannons
22 starboard cannons
Crew:
726(FFC3)
Status:
Destroyed in combat
Destroyed:
796 UC

(

487 IC / 3596 CE

)
The Heidenheim (Japanese: ハイデンハイム) was the flagship of Rear Admiral Erlache.
Service history
The Heidenheim was assigned to Reinhard von Lohengramm's fleet at the Battle of Astarte in early 796 UC (487 IC / 3596 CE). It was destroyed by a battleship of the Alliance 2nd Fleet, after Erlache disobeyed High Admiral Lohengramm's orders by attempting to reverse course to face the enemy. (Overture to a New War)
Design
The Heidenheim was a standard Imperial battleship and was distinguished by a crest composed of two curlicues framing the symbol of the Empire. (Overture to a New War)
Appendices
Appearances
Name variations
Heidenheim (Translation of Japanese, derived from LD

/

DVD

/

BD dialogue)
ハイデンハイム (LD

/

DVD

/

BD dialogue — Japanese)
Heilenheim (Central Anime subtitles)
Background information
Heidenheim is a town in southern Germany.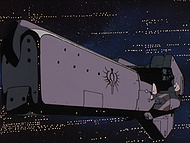 Apocrypha
Appearance differences
The Heidenheim is not named, nor does it bear a unique crest, in LOGH: 'In the Eternal Night'.
Easter Egg
In the movie version, when the Heidenheim is destroyed, one of the large pieces of debris has some Japanese writing on it.