Legend of Galactic Heroes: Die Neue These
From Gineipaedia, the Legend of Galactic Heroes wiki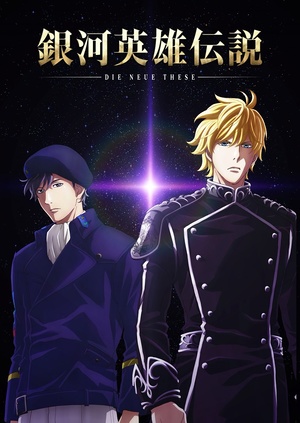 Legend of Galactic Heroes: The New Thesis (Japanese: 銀河英雄伝説 Die Neue These, Ginga Eiyū Densetsu Die Neue These), is the sixth animated adaptation (counting films) of Tanaka Yoshiki's Legend of Galactic Heroes series of novels. Produced by Production I.G, this re-adaptation is first aired in April 2018 as a 12-episode series, followed by 3 animated films in 2019.
In addition to this animated adaptation, Legend of Galactic Heroes has also been adapted into the original 110-episode OVA series, three OVA films, a prequel Gaiden OVA series, and a musical stage production.
Crunchyroll is streaming the series with subtitles, and Funimation is streaming the series with an English dub.
Summary
For over 150 years in the distant future two interstellar human states – the Galactic Empire and the Free Planets Alliance – were embroiled in what seem to be a never-ending war within the Milky Way galaxy. Out from the ravages of war emerged two young stars whose deeds would make them worthy of the appellation of Galactic Heroes. They are Reinhard von Lohengramm from the Galactic Empire and Yang Wen-li from the Free Planets Alliance.
Episode list
Encounter
The first season, Encounter (Japanese: 邂逅, Kaikō), is a 12-episode series that covers volume 1 of the original novels.
Stellar War
The second season, Stellar War (Japanese: 星乱, Seiran), is comprised of 3 animated films, equivalent to a 12-episode series.
Production staff
Production
Main cast
Theme songs
Opening theme
Ending themes
External links